Server and Desktop Care Plans
>Download our managed services overview
Server Service Levels
Essential Server Care
Essential Server Care provides basic monitoring, alerting and ticketing to help you operate more efficiently. You'll spend less time figuring out alerts and researching resolutions, and our Network Operation Centre (NOC) will alert you when critical issues arise.
Preferred Server Care
With Preferred Server Care, you can completely offload server monitoring and management to our NOC. Alerts and tickets are sent to our remediation teams, which remotely connect to troubled servers to apply the appropriate solution (best-effort). You can monitor systems and ticket statuses from anywhere.
Elite Server Care
Elite Server Care puts you in complete control, allowing you to create and assign issue-based tickets to our NOC technicians for full problem resolution. Our talented technical teams are ready to investigate and resolve all server issues, whether they are generated by our monitoring system alerts or raised by your team via our ticketing system. You can also forward any event identities, application messages, windows error messages and other anomalies to us for best-effort troubleshooting and resolution.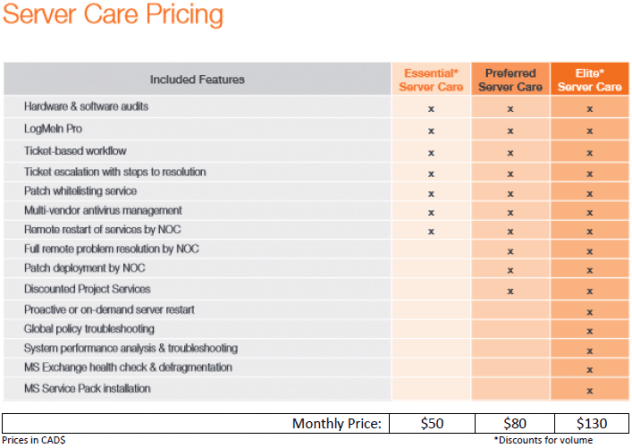 Desktop/Laptop Care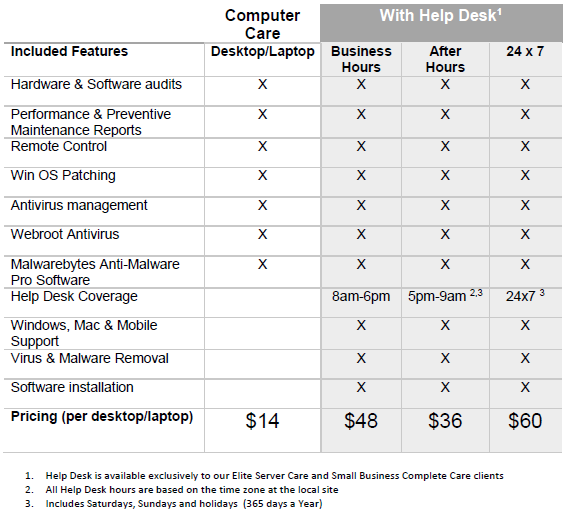 – Minimum 5 units
– Volume discounts
– Monthly contract (you can cancel anytime)
– On site visit is not included (offered only to clients in Nova Scotia)